Skip to Main Content
It looks like you're using Internet Explorer 11 or older. This website works best with modern browsers such as the latest versions of Chrome, Firefox, Safari, and Edge. If you continue with this browser, you may see unexpected results.
What is Creative Commons?
Creatives Commons is a nonprofit organization that enables sharing and the use of knowledge through creating and licensing works. The organization provides Creative Commons Licenses to copyright owners which grant permission for public use of works without obtaining permission from the owner. These licenses can indicate whether works can be used for commercial purposes, derivative purposes, etc.
There are different restrictions for a Creative Commons License:
Attribution: use, distribution, derivative works allowed with citation.
Noncommercial: use, distribution, derivative works allowed if not for commercial purposes.
No Derivative Works: any use, distribution, etc. allowed as long as it is verbatim.
Share Alike: derivative works allowed if licensed under the same conditions as original.
There are 6 combinations of these restrictions for Creative Commons Licenses including: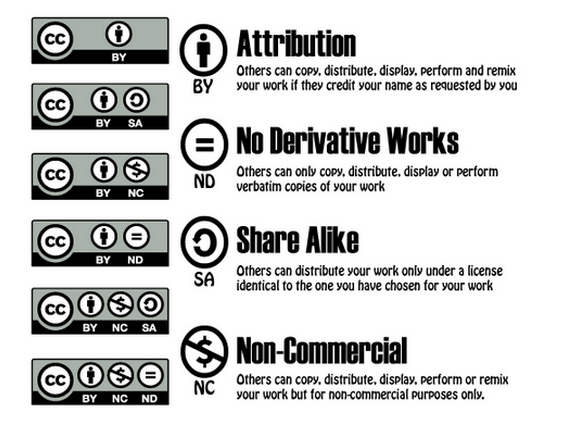 All Creative Commons licenses require citation or attribution to the creator of the work. These usually include:
The title of the work.
The author of the work, with a link to the profile page.
The source the work came from, with a link to the original item.
The license created by Creative Commons, with a link to the license deed.
Add this information into the Attribution Builder to create your own attribution.
Watch this video from Creative Commons for an overview of how Creative Commons works.